Profiling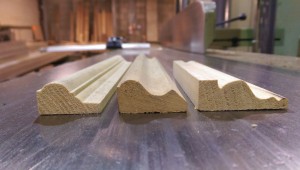 Dh timber offer an extensive bespoke moulding service for our customers. Our weinig 6 head moulder can tackle jobs accurately and efficiently. Flooring, architrave, cladding, and skirting board are all being machined daily by our skilled machinists.
If you have a bespoke pattern that requires new cutters our skilled millers can grind a set of knives to perfectly match your profile.
Along side our bespoke moulding service, we have hundreds of standard cutters in storage, Ogee, Ovolo, Tongue and Groove, and Half lap to name a few. We will machine short runs, and will keep set up charges to an absolute minimum, if any at all.
If you would like us to quote for a particular mould you have then please contact Timbersource, any drawings you can get to us will further simplify the quoting process.
back to previous