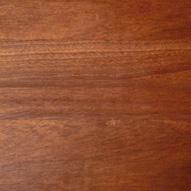 Supplied Timber Information
Sapele
General Description: Sapele predominantly from West Africa is a reddish-brown hardwood. Although some parts of the Sapele logs will produce straight-grain or 'quartered' effect, generally it has a more random grain appearance, thus meaning it is liable to interlocked grain. Interlocked grain spirals around the centre of the tree thus alternating intermittently and causing a 'rough' effect, this can generally be reduced if not eliminated by heavy sanding. Sapele is used for numerous mahogany like products, for example conservatories, door frames and solid wood doors, furniture and counter tops.
It is available kiln dried in thicknesses 26mm, 32mm, 38mm, 50mm, 63mm, 76mm and 100mm.
Random widths range from 100mm to about 400mm and lengths 2m to about 5m.
back to previous